The Other Voice of Wings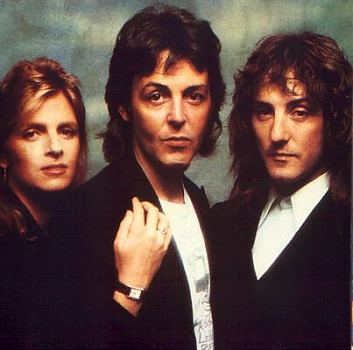 Anyone who has ever heard a Wings record has likely noticed that there are one or two songs per album that aren't sung by Paul McCartney. Various members of Wings have taken over the mic from time to time, be it Linda McCartney, Jimmy McCulloch (lead guitar), or even Joe English (drums). But, from record to record, there is one who most consistently gets the lead vocal cameo. Other than Paul and Linda McCartney, he is the only constant member of Wings- one of the core trio of the band. He is ex-Moody Blues singer/guitarist Denny Laine.

Initially famous for singing "Go Now," a hit single for the pre-Justin Hayward and John Lodge Moody Blues, Denny's main claim to fame is his time in Wings. His singing and songwriting, though not an overly prominent aspect of Wings, helped make their work distinct, and more than just a Paul McCartney backing band. "Mull of Kintyre", which he co-wrote with Paul McCartney, became one of the band's biggest hits. His contributions as a musician and backing vocalist were invaluable as well.

"Deliver Your Children"
From the album "London Town"- 1978



"Again and Again and Again"
From the album "Back to the Egg"- 1979





After former Beatle John Lennon's assassination in 1980, Paul McCartney was hesitant to go back on the road. Denny Laine, on the other hand, was eager to get back on stage. This, coupled with Paul's infamous drug bust in Japan, and the subsequent cancellation of the Wings tour there, essentially broke up the band.

This is all basically common knowledge, and as far as Denny Laine is concerned, this is the end of story for most Beatle fans. But not for me. The man basically lived in Paul McCartney's shadow, but he is an excellent artist in his own right. His post-Wings solo career is virtually unknown, and much of his work is not only out of print and hard to find on its native vinyl format, but largely undocumented on the web as well.

I was tempted to only write of his rarest releases, but for the sake of biographical completeness, I will go over all his albums- even the more commonly known ones.
If one is so inclined to dive in head first
,
Denny's catalogue is full of redundant compilations, put out with little or no regard for one another's existence, causing massive overlap. Certain obscure albums are covered on collections like

The Rock Survivor, The Masters, The Collection, Spreading My Wings: The Ultimate Collection,

and

Blue Nights

- but due to the scattered nature of the original albums, some are passed over entirely.
Ahh... Laine!
Wizard Records (UK) / Reprise Records (US)- 1973





Denny Laine's solo career would seem doomed from the start. Even in the interim between his now legendary stints with the pre-
Days of Future Passed
Moody Blues and Paul McCartney's Wings, Laine failed to make earn recognition in his own right- recognition he sorely needs to this day.
Deram, and experimental offshoot of Decca Records that saw the monumentally successful release of the post-Laine Moodies'
Days of Future Passed
in 1967
also
, surprisingly, featured Laine's earliest attempts at a solo career. Three singles were planned, and two were released:
Say You Don't Mind / Ask the People
and
Too Much in Love / Catherines' Wheel
. Both releases were credited to Denny Laine's Electric String Band, which was very much a predecessor to the forthcoming Electric Light Orchestra- which, interestingly, featured drummer Bev Bevan from Denny and the Diplomats. These bold, ambitious singles garnered critical acclaim, and apparent respect from their contemporaries, but weren't hits in their own rights. The Move (precursor to ELO, also featuring Bevan) covered "Too Much in Love" onstage. More famously, ex-Zombie Colin Bunstone covered "Say You Don't Mind," making the song a hit, but not for Denny Laine.


A third single was recorded, but not released- the eloquent yet understated "Why Did You Come?" which is now lost. An Electric String Band album was planned, but never came to fruition. And aside from comparatively smaller roles, both in Balls (featuring Steve Gibbons and Move-alum Trevor Burton) and Ginger Baker's Air Force, Laine was off the map until joining Wings in time for the album
Wild Life
in 1971. Then, as Wings just started to become successful,
Ahh…Laine!
mysteriously, quietly, and briefly popped up in 1973- an obvious cash-grab, as it even features Denny wearing a Wings t-shirt on the cover.


This is flagrant false advertising. No one from Wings appears, nor does this have anything to do with Wings, at least in the literal sense. It predates Wings, afterall. But it's not without merit- Wings vibes are all over the album. There is, however, something strikingly… half-baked about the whole thing. Many songs seem tossed-off, like "Don't Try, You'll Be Refused," "Talk To the Head," and "Sons of Elton Haven Brown." In other instances, bizarre lyrics and utterly baffling production values – including fades at random moments, even in mid-verse, and poorly-layered vocal mixing- lends to the idea that this album was recorded cheaply. Even the title raises eyebrows:
Ahh…Laine!?
What does that even mean?


I've read that this was recorded in 1971. Could it be the fulfillment of the promise of an Electric String Band album, only after they had disbanded? Was it quickly recorded, and rejected? Or could it have been aborted prematurely, only to be hacked together once Wings got famous? In any event, Denny had nothing to do with its final release- he didn't even know it had come out, at least in the US.


In spite of all the dubious, possibly negative interpretations my claims may lead to… this is a GREAT album, full of jangly guitar, bright melodies, and happy vibes. It's so refreshing to hear Denny simply being Denny, with no pretenses of him being the guy from Wings, no tacked-on cover of "Go Now!" or inferior re-recorded Wings songs, and no mechanical '80s production values. This is pure Denny, plain and simple. The next closest example may be 1982's
Anyone Can Fly
featuring a leaner song selection and a punchier, more polished sound- but this one is significantly easier to get a hold of.
Denny is a man who needs to be himself, in a totally non-pretentious context. This album, in spite of its smallness and sometimes throwaway nature, is arguably the only one he's ever done that fulfills this. The goofy, spacey instrumental "Big Ben", which would have been right at home on Wings'
Red Rose Speedway
, leads into the blistering rocker "Destiny Unknown" – what a great album opener! "Baby Caroline" is a great ballad. After a slight lull from the end of side 1 to the beginning of side 2, things pick back up again. "Find a Way Somehow" has Wings written all over it. The fuzzed out "Havin Heaven" and the frenzied "On that Early Morn" are energetic, catchy, and care-free pop songs. "The Blues" is classic Denny- easily the best song on this whole set. "Everybody" has a strange, high-pitched flute sound that is somewhat distracting, but is otherwise a solid folk song. The final rocker "Move Me To Another Place" ends the album in style.


In spite of all these strengths, and the massive popularity of Wings at the time (one could almost forget the contrived nature of the album's release) what was its effect? NON-EXISTENT. It came and went, unheard of. "Baby Caroline," incorrectly retitled "Caroline," was released as a single in 1977 (the same year as
Holly Days
)as a further cash-in on Wings. "The Blues" was relegated to B-Side status. That could have easily been a double A-Sided single, but it was a moot point by then. Why not release it in 1973? And finally, what I consider the most tragic element of this album: of all the budget compilations and junker CD collections, not a single one of these songs has been included.
Holly Days

Capitol Records- 1977

In 1977, Denny Laine's solo career was offered yet another jump start: the Wings album, in all but name,
Holly Days.
This is more a specialty record- a celebration of the music of Buddy Holly (and Paul McCartney's ownership of the rights) that somewhat overshadows Denny's top billing. Released on Capitol and given a proper CD release, this is the least rare of Denny Laine albums. So, naturally, it's one of the first I heard. After hearing Denny's strong Wings songwriting and vocal contributions, like "Picasso's Last Words (Drink to Me)," "Time to Hide," and especially "Deliver Your Children," I was eager to hear how he sounded on his own. This album somewhat met my expectations, but it's not really a proper
Denny Laine
album… it's more or less another experimental outlet for Paul McCartney, who has made no secret of his enjoyment when it comes to lending our outpouring his talents "anonymously":
Thrillington
,
Mike McGear
,
Twin Freaks
,
The Fireman
, and not to mention his albums of sound collages and orchestral works, just to name a few.
But, of course, this aspect isn't really
conveyed
by the music. On strictly musical terms, it's a homespun album, much in the vein of
McCartney
,
Ram
or even
Wild Life
- only more rudimentary, in very much an intentional way. Denny's voice sounds great, and the whole album oozes with an intimate charm. Whereas
Ahh Laine
was intended to come across as a Wings related release, when that very much wasn't the case, this is an attempt to
disguise
the fact that it is, indeed, a Wings album- albeit an offshoot. For me, the overriding question remains: is this an attempt to give Denny some spotlight, or a grim reaffirmation of his secondary status in the band? McCartney-Laine politics aside, it's an enormously fun little record.
Interestingly, being a Capitol release, it doubles as Denny's most common album (on CD and vinyl) and one that is never covered on the legions of Denny Laine budget compilations. The oppsite can be said of his following album, Japanese Tears, which I'd call a distribution nightmare.
Japanese Tears
Scratch Records- 1980

Which was the original issue? Was it

Japanese Tears

on Scratch, or

Weep For Love

on Toshiba

?

In the '80s alone, it was reissued as

Go Now

and

In Flight

(which had 2 different versions in and of itself), and distributed with the same title (but sometimes modified covers) on countless other labels.
And this was before the CD compilations came along, each covering no less than a significant chunk of this album.
Like I said: distribution nightmare.
But like the armada of reissues and compilations that followed, the original version still comes across like a collection, as opposed to a unified album. But the fact remains: this was the first proper, artist-sanctioned solo album of Denny Laine's actual, post-Wings career. A lot was hanging on its success, and he compromises some of the offhand charm of
Ahh Laine
and
Holly Days
for an album that, in many ways, comes across as a very calculated effort at maximizing appeal to a Wings/Moody Blues audience. In that sense, it can be seen as his resume to the world.
For starters, it contains re-recorded versions of "Go Now!" and "Say You Don't Mind," his most famous pre-Wings recordings. Also, it contains a whole slew of Wings outtakes with Laine on vocals, recorded at various stages in the band's career. "Send Me the Heart" is a throwoway country song recorded with Wings in Nashville in 1974: the same sessions that spawned the
Junior's Farm / Sally G
single. It's the only McCartney-Laine songwriting collaboration on the album, but so what? Personally, I think it's really bad. "I Would Only Smile," on the other hand, is an marvelously catchy little ditty, recorded for the proposed
Red Rose Speedway
double album. "Weep For Love," dating from the
Back to the Egg
sessions, might have been too pastoral and folky for that album, but is a fine song with great backing harmonies by Paul and Linda McCartney. It's definitely worth checking out if you liked "Mull of Kintyre."
The new material is generally of even quality, with no epic highs, but no real filler either. "Japanese Tears," a statement on Paul's arrest in Japan that halted any future plans with Wings, incorporates elements of actual Japanese music, but it's only mildly tuneful, and a bizarre choice for a single. It seems Denny wasn't using his gift of melody to its full potential on these songs. Songs like "Clock on the Wall," "Danger Zone," and "Nothing to Go By" come really close to 5-star territory, but fall flat in odd, subtle ways. That said, the only real low point is "Same Mistakes." Featuring Denny's wife JoJo on vocals, it is hokey and contrived. I get it: the whole husband-and-wife-appearing-on-the-same-song thing is supposed to be
cute
, but seriously- who buys a Denny Laine album to hear someone else singing? Ironically, he'd make the
same mistake
on the
Hometown Girls
album down the road, but that's another story.
So, as far as Denny Laine albums go, it's a shame that this one, and the material from it, is so frequently recycled while lesser-heard albums like
Ahh Laine!
, the superior (in my estimation)
Anyone Can Fly
, and not to mention everything from his stint with President records, remain out of print. But ultimately, it's a good companion piece to Wings' albums. It's just a shame that the real highlights are old songs recorded anew. That, to me, takes away a lot from the overall experience.



Anyone Can Fly
Global Records and Tapes, 1982














Ahh... Laine!! This is the way I always wanted to hear Denny: well produced, naturally melodic, and not rehashing past glories. This was a monumentally rare, fleeting moment, like a planetary alignment- just late enough to be outside the Wings afterglow, and just early enough to not be plagued by '80s cliches.
Anyone Can Fly
is one of my favorite Denny Laine albums. And, quite sadly, it's one of the hardest to come by.
I find 1981's
Japanese Tears
underwhelming, not for a lack of stellar, first- rate songs, but because of the scattered nature of its material; some was new, some was old, and some was re-recorded. What was supposed to make it a great
collection
of songs was the very thing that kept if from being a fully satisfying
album
: it didn't feel unified, like an individual artistic work. It's understandable that he'd have bent to commercial pressures, since it was his make-it-or-break-it album. However, this vindicates my point: he didn't really make it. He left Wings because, quite simply, he wanted to get out on the road and play again. But the mild reception of
Japanese Tears
no doubt dashed his hopes.
Flash forward to
Anyone Can Fly
one year later: out of the scarce information regarding its recording (which I can only infer from the credits and other details on the minimalist LP jacket), it would appear Denny had dropped completely off everyone's radar,and recorded the album rogue, with little or no commercial expectations. Norman "Hurricane" Smith is a major contributor- producing, scoring, and performing piano, brass, percussion, and backing vocals. The only other credits offered are engineer, tape operator, drums/percussion (two people), and bass/additional guitar. And, though it was recorded in England, the only known copies I've seen were pressed in West Germany by Global Records. This is just me speculating, but it would seem that more mainstream distributors actually
passed
on the album, and they settled for Global, which was better than nothing.
As likely a scenario I find this to be, it's shocking...
shocking
, that anyone would deny this album a chance to be widely heard. It's not up with the fashion, but damn, is it sublime music! The production is utterly pristine. It's got a punchy, rocky sound, texturized by acoustic guitars, string sections, and tasteful synthesizers. And the drums are REAL! This would not be the case with some of his later albums. And, most of all, Denny's voice stands out like never before- pure and uncluttered. He sounds incredible! His guitar playing is more prominent than usual, and not to mention versatile- from fluid and melodic, to rough and crunchy.
The tracklist is a brief 8 songs, but if nothing else, I consider it short and sweet. Besides, the album, as a whole, doesn't feel shorter than any of his others. In terms of length, it's just right- certainly more discriminatory than
Japanese Tears.
And each song, lo and behold, is great! Some more than others, to be sure, but if songs as reasonably enjoyable as "I Always Thought" and "Could Not Believe" are the
lows
, that's really saying something. They're actually quite fun, in an extremely lightweight way. "Running Round in Circles" is totally infectious; a lost cousin to Wings' "C Moon" with fantastic shifts in instrumentation and intensity. "Be Together" is a grinding rocker, and perhaps the quintessential utterly forgotten gem of Denny's career. "Who Moved the World," a delicately stringed ballad, gives us a breather before the marvelously toe-tapping "Racing Cars" ; a clap-and-stomping good time of a song. Another fine rocker, "Various Shapes and Forms" opens side 2. The two aforementioned "lows" of the album follow, and the title track serves as a spirited, heartfelt closer. An acoustic-based ballad, "Anyone Can Fly" finds Denny dealing with some very personal themes. It's not a gimmicky Wings reference: he talks about his feelings toward the homeless, his thoughts after witnessing a cycle crash, and his bittersweet feelings of longing for a lost loved one. These three vignettes add up to one very moving song. It's a wonderfully poignant slice of life.
Anyone Can Fly
is a great album, for sure, but it did nothing to stop Denny's descent into total obscurity. It's the first and last album he'd do that sounds this good, but the bluntly honest emotional content of the title track would be used to a greater extent on the rock opera
Hometown Girls
that would follow in 1985.


Hometown Girls

President Records, 1985








Hometown Girls
is a modestly ambitious concept album from a man never known for his songwriting (sadly), let alone his album-length bodies of work. The liner notes feature a blurb telling the story, with the song titles in bold text. But unlike some concept albums that come to mind, the album not only follows this story, but more surprisingly, is conveyed by the
songs themselves.
The plot, more or less a simple love story, comes across as genuinely autobiographical. It's a bittersweet snapshot of the man's life, with a open ended,
Quadrophenia
-esque conclusion. He ends on a fairly optimistic note, but winds up in the exact place he started, suggesting that, in spite of feeling momentarily complacent, nothing will change. In parts, it's daringly moody and introverted. "I'll survive okay/ go from day to day/ but I'll still find time for dreams that carry me away." Denny sings with conviction, his voice sometimes sounding ruff and raw, which only helps convey the confessional tone of the songs.
Another surprise is the production- very effective, for an '80s album. Sythnesizers are used to mostly great effect, and saxophones pop up at just the right moments to help set the mood. It's more experimental than what came before or after. In fact, the album is pretty elaborate by Denny's standards, using different styles of music to establish the emotional ebs and flows of the story. Like
Japanese Tears
four years before, a female guest vocalist pops up (JoJo Laine there, Maggie Bell here) and lends her pipes to a rather silly, awkward, and seemingly tacked on song. Here, it's the highly typical '80s synth-pop song called "Street." It's the lowest moment on the album, but stylistically, it actually
fits,
in the context of the story. The change in vocals actually represents a different character, and the poppy music is used to convey the nightlife, and the kind of sleaziness found there. The "dark" chorus, with descending synthesizer notes, hint strongly at this.
The rest of the songs are all good to great, with no real filler. Aside from the title track, "Stay Away," "Cruisin", "Mistral," "Street" and the sweet ballad "Blue Nights," the songs are unavailable outside of this out of print album. But don't let its release year, obscurity, and the vomit-inducing color scheme of its cover fool you- it's definitely worth tracking down. "Red Sky" and "Twist of Fate" are among the best tracks exclusive to this release.


Wings On My Feet

President Records, 1987






Not bad. Full-blown '80s pop, at least at a first glance, with lots of synth and reverb-heavy percussion. But there's more to it than that. The production quality is very '80s, but at the same time, quite minimalist: just bass, guitar, drums, keyboards (which provide much of the actual sound) and three voices- Denny, and two female backing singers. Keyboards are by Rick Wakeman of Yes, and there are hints of his former band all over this album,
if
you know what you're listening for. That's not to say his performance here is in any way mind blowing or progressive, but he creates some very interesting, quasi-ambient sonic textures. And, as usual, Denny delivers a set of solid tunes, well composed and sung. Four songs from this album- the wannabe hit single "Wings on My Feet," the party song "Roll the Dice," the wonderfully bouncy, almost Wings-quality "Carribean Sun," and the somber ballad "Blushing Bride" - all later popped up on compilations like
Blue Nights.
Others, like ""Portrait" and "It's Never Too Late," ended on the compilation
Spreading My Wings: The Ultimate Collection,
while the remainder of the songs remain firmly in the realm of obscurity. This is a shame, because there are some first-rate Denny Laine compositions here, even if they are extremely of-their-time. "Lucy Lulaby," "No Sleep," "Tao Princess," and "Spacetrain" are especially great.
Lonely Road
President Records, 1988(9)*


Lonely Road
, the last of Denny Laine's alarmingly under-distributed efforts for President Records, is, for all intensive purposes, the logical successor to
Wings on My Feet
. In spite of this, it's actually unclear if this was released before or after the exclusively instrumental
Master Suite
album, since both were released in 1988. But since
Master Suite
was on a different label (Thunderbolt- his only release for them), and this collection contains songs dating back to 1986, I'll consider this the first.
And while I'm on the subject of the… confusing… nature of Denny's releases, I'll reiterate an old sentiment that I feel needs to be stressed as much as possible: Denny's career is, at the very least, an unfortunate enigma. Like many of his albums, this lacks a CD release, and seeing as how his works are scattered across a myriad of labels, it is likely we will never see Denny's material culled together in its entirety and re-released, even in an all-digital format. It's quite conceivable that Denny, himself, doesn't even have access to the masters anymore. But the bottom line is: not one of his labels seemed intent of actually distributing the albums he made. It was as if no one cared- then or now.
Fewer backing singers and more guitar-based songs are the saving grace of this record; not to mention some thoroughly solid, sometimes Grade-A material. The production values are still '80s, indicative almost of a lack of band members and equipment. This bogs the whole thing down, but to a less striking effect than
Wings On My Feet
. Listen to "If I Tried"- the man bares his soul with heart, conviction, and some rather nifty guitar work. "Eyes of a Child" is wacky and fun. "True To Me" offers a killer bass line, albeit a likely synthesized one. "Without Your Love" is as catchy a number as Denny ever wrote. "Lonely Road" offsets its depressing implications with an almost cheerful melody. The second side drifts for a while, with a lot of songs that sound somewhat similar. But all in all, nothing comes across as filler.
So what we are left with is another obscure mini-gem; an album wrought with Denny's underrated talents, along with catchy, spirited, and downright heartfelt material. Now, if only he had this material in his song bag
before
the '80s and money problems tainted his artistic vision...
*some sources also list the release year as 1989, which is incorrect



Master Suite


Thunderbolt Records- 1988

Master Suite,
one of Denny Laine's many obscure solo releases, is an album devoted entirely to his supposed "virtuoso" guitar skills. This claim (made by the liner notes) is arguably an overstatement, as Denny is a great (and underrated) guitarist, but he doesn't do anything too mind blowing here. It's pleasant, but sometimes a little boring. There's not much variety or texture, and it never really stirs any emotions. The best song, by far, is the wonderfully oceanic "The Blue Musician."


A repackaged compilation calls this album "The Blue Musician", and features all the same songs, but with some tracks re-titled for no apparent reason.
All I Want Is Freedom
JAWS Records- 1990

I've heard no shortage of 'bad '80s production' records in my lifetime, but Denny Laine's
All I Want Is Freedom
has to be the worst of them all- and it's from 1990! It sounds absolutely appalling. The drums are all fake, and to a painfully obvious extent. The bass is synthesized. The keyboards are all tacky, wannabe-brass and other instruments. Denny sorely under uses his guitars, acoustic or electric. And to top it all off, not only is his voice starting to show some wear and tear, but those obnoxious ladies doing the backing vocals are so prominent, they even sing some of the choruses for him.
The whole disc simply begs for real musicians and instruments, because most of the songs are actually decent. "I'll Stay" wants to be a grand ballad, but that tacky synthesizer keyboard completely ruins the effect. "Rescue My World" has some decent Spanish-styled guitar playing (in the same vain as the instrumental
Master Suite
album), but it's immediately drowned out by mechanical drums and backing singers- and lyrically, it is trying to hard to be a big statement! Other good songs include "Heart For a Ride and "On the Radio", which would have definitely benefited from a better sound. Most of the rest is average.
I can't overstate the bad production- it sounds as if he recorded the album on a brand new 1990 Macintosh computer, complete with all the newest MIDI sounds. Considering that there are some (actually) really good songs on here, it makes it all the more disappointing how Denny shoots himself in the foot at every turn- especially since it is often needless. To some extent, it's obvious that he recorded the album on a limited budget, and had to go with synth instruments, but at other times, it's apparent that he's trying to make the album sound contemporary and hip. Take the song "Light on the Water", for example: it has a digital harmonica. How hard would a real harmonica have been to find?
Reborn

Griffin- 1996
















Wings at the Sound of Denny Laine

Purple Pyramid- 1997
Arctic Song

Ribble Records- 2000
Denny's newly published official site offers a preview of the album in the form of the track "The Ghost of the Scrimshaw Carver", a wonderfully catchy and folky, acoustically-based song. It would appear he's preparing the album for an official release via his site, though that's just my hunch.
http://www.dennylaine.com/


Valley of Dreams
TBA- 2010
Denny's long-awaited new release, scheduled for release sometime this year. I have no reason to believe this won't be a full-fledged creative and artistic return for Denny.